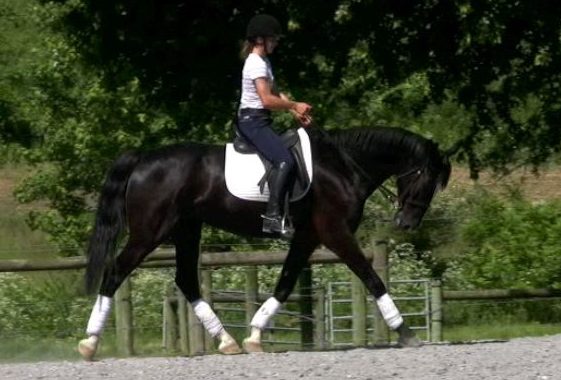 Amontillado, "Milo," is a straightforward easy youngster looking to please. He is going to mature into quite an athlete, and is already showing promise as a jumper or event mount. He has natural ability to a fence, trying to find that right spot and stride himself. He is brave and bold to a fence, enjoying the work and willing to do more. He's been jumped up to 2'6" and started 3′, showing scope for much bigger fences. He is schooling combinations, grid work, and simple courses, along with xc fences.
He is schooling training/first level dressage to build the correct structural foundation to excel at any discipline. He has three comfortable uphill gaits that are easy to sit, and his movement has impulsion and elasticity. Responsive to the aids and willing to work. Milo also enjoys hacking out, always staying attuned to his rider. He is safe and open to exploring new obstacles. If you are looking for a young horse to bring along and make your own, or you are a confident rider working closely with a trainer, this horse is for you. He is safe, easy, and willing, with the stamina and talent to excel as a jumper or event horse.
Name: Amontillado "Milo"
Age: April 2013
Breed/Sex: Dutch Harness Cross / Gelding
Height: 16.3 hands
Color: Black
Ground manners: Like all Anchor Creek Farms horses, Milo has excellent ground and stall manners, will bathe, trailer, clip, and stand for his feet to be handled. Sound with no vices, current on Coggins and shots.
Price : $15,000